Wicks
A Better Candlewick
Fil-Tec manufactures a full line of candlewick in our plant located in Maryland, in the eastern United States. In 2000, we started the process of designing a better candlewick. Candle makers suggested several objectives for this new wick construction: improved capillary flow, uniform diameter of the wax melt pool and reduced carbon build-up. We believe we have achieved all of our objectives with our new innovative non-braided wick structure. In September of 2003, we received our patent for our new knitted wick design. Fil-Tec's unique wick structure has a more open construction than other wick. Our candlewick performs well in heavily scented or difficult waxes, as well as straight paraffin wax.
We designed our manufacturing process and quality system with product performance and consistency as our top priorities. This unique manufacturing process allows us to make the wick faster, more efficiently and above all more consistent than traditional braided wick. Our patented knitted wick construction and manufacturing process assures our wick is more consistent from spool to spool than other candlewick.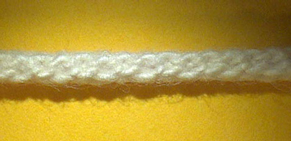 Fil-Tec Knitted Wick Construction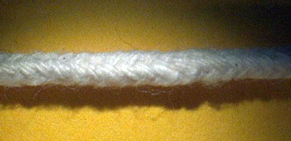 Braided Wick Construction
Fil-Tec's Ultra Core wick was developed as a true replacement for zinc core. It is an all fiber wick; but it has the rigidity of zinc without wire or paper in the core. Ultra Core wick completely consumes without leaving any ash or ghosted wire. It stays straight during the pour and more importantly during the burn. This wick is an excellent choice for container and votive candles. Since introducing the Ultra Core wick line it has become the standard for many high volume candle manufacturers around the world.

The latest addition to our candlewick family is our Rigid Curl wick. It is designed for container, pillar, votive and devotional candles. This wick has the rigidity you want, along with the self-trimming you need. The rigidity helps the wick remain straight in the filling process and in deep melt pools. The self-trimming feature helps to maintain a safe flame height during extended burns. It also reduces the carbon build up and minimizes soot.

We also offer our Even Curl wick, which is the most consistently curling and self-trimming wick available anywhere. It gives you great performance in extruded and molded candle sticks as well as all types of pillars, tapers, votives and tea lights.

A 100% cotton wick designed with our unique knitted structure to facilitate burning in even the toughest waxes and heaviest fragrance loads. Use for container candles.
A rigid wick with our open knit construction stiffened with a zinc wire core. The ultimate in rigidity and stability for all types of filled container candles.

Our Test Lab is available to assist you in finding the correct wick for your specific wax blend. With Fil-Tec there is no middleman. We manufacture all of our candlewick in our Maryland plant. We offer it raw or waxed on spools and waxed and tabbed to your specifications. We have stocked our warehouse so there are no long lead times, and our pricing is competitive.